Cast iron wafer check valve
DATE:2019-07-16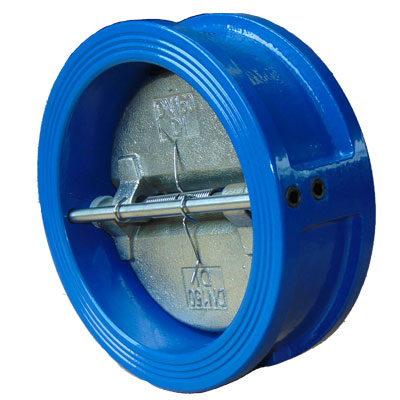 Product description:
Wafer Butterfly Check valve a save-energy product,is manufactured base on the foreign advanced technology and in accordance with relative international standards.
This product is featured by excellentretainig performance,high safety and reliability and low flow resistance. It is suitable for systems in teh industries of petrochemical,
food processing,medicine,textile,paper-making,water supply and drainage,metallurgy ,energy and lightindustry etc, used as a check valve in one way.
Technical Data:
Nominal Diameter

50(2)~700(28)

50(2)~450(18)

Nominal Pressure

1.0

1.6

Testing pressure

Shell

1.5

2.4

Sealing

1.1

1.76

Working temperature

-15°c~+150°c

Suitable mediums

Fresh water,sewage ,air,steam ,food,medicine,oils,acids,etc
Material of Main Parts:
Body

Disc

Stem

Rubber Gasket

Spring

Name

Code

Name

Code

Name

Name

Code

Working Temperature

Name

Cast iron

Ductile iron

Carbon

steel

Stainless steel

Z

Q

C

P

Plated Ductile iron

Aluminum Bronze

ZG1Cr13Ni9Ti

stainless steel

CF8M

stainless steel

CF8M

stainless steel

1

2

5

7

Stainless steel

EPDM

Neoprene

NBR

Neoprene

X3

X4

X5

X7

-46~+121

Intemittence

-50~+150

-29~+99

Intermittence

-35~+113

-23~+82

Intermittence

-23~+93

-23~+150

Stainless steel